---
---
'Hello' and 'welcome' to our web-page.
Unfortunately we did not have enough time to organise it better - we will do during "wintertime..."  2017/2018  ;-)
"Wintertime" in Anzio means "lowest tempe-
rature=8°C - no frost, no snow and a healthy sea-climate. Further more it means: "can be as well 20°C" - just depending on...
We did'nt plan to run holiday-homes
- 'it happend'
- I thought, it would be a pity not to of-fer the space for families who appreciate such an ideal place between train and sea.
You have ALL the choices: culture in Rome
or beach-holidays down the road in 3-5 min. The train up the road (350m) brings you into the heart of Rome 'Termini' - the mainstation, in a little less than one hour - for just 3,60€.
Wouldn't that be something you could enjoy?
We welcome you to try it
         - just ask us for additional information.
"Hallo - und willkommen auf unserer Seite."
Leider hatten wir keine Zeit sie professionel- ler zu bearbeiten - vielleicht schaffen wir das besser in der "Winterzeit" 2017/2018   ;-)
"Winterzeit" in Anzio bedeutet 8°C Niedrigst-Temperatur - kein Frost/Schnee, Seeklima. Außerdem bedeutet es:
"Es kann auch 20°C sein..." - jenachdem...
Wir planten nie Ferienhäuser anzubieten -
'es passierte' - Ich dachte, es wäre zu schade, die Häuser nicht Familien anzubieten welche diesen idealen Platz zwischen Meer und Zug zu schätzen wissen.
Man hat alle Möglichkeiten: Kultur in Rom oder aber Strand-Urlaub die Straße herunter in 3-5 Minuten - und der Zug in 350m bringt jeden für 3,60€ in das Herz von Rom 'Termini'
> Wäre das nicht etwas um es zu genießen?<
Wir heißen Euch willkommen es zu probieren
- fragt uns einfach nach weiterer Information
************************************************************************************************
We had unbelievable nice guests, some are made for friends - and "YES", we had a few stub- bern and "fancy" as well.  On purpose, I think, humans are made different, so that we really can enjoy most of them - and be aware of the alternativity. - Each one starts with a bonus!
Caroline, one of our very last guests this year, 11 month young, learned her to get up and walk,
in our late October, 25/28°C... - She told us to tell you, that she enyoyed it...
... and WE add:  "...that's the way.... - we like it!"
************************************************************************************************
Wir hatten unglaublich nette Besucher hier - einige wurden zu Freunden - und "JA" wir hatten ein paar Dickköpfe und 'komische' auch.  Ich denke dann einfach, das ist geplant, damit man die meist tollen Gäste geniessen kann und bei den anderen vorsichtiger wird.
Wichtig ist:  Ein jeder startet mit dem Bonus des möglicherweise 'tollsten Besucher jemals...'
Caroline, ganz zuletzt in diesem Jahr zu Besuch, 11 Monate alt lernte hier aufstehen und gehen und hat mit seinen unglaublich relaxten Eltern hier täglich den Strand besucht - im späteren Oktober, bei 25-28°C...  Sie läßt sagen, dass sie es genossen hat...
... und WIR ergänzen:  "...that's the way.... - we like it!"
************************************************************************************************
BB-MARECHIARO
can be contacted via eMail (preferred)
kann man per e-Mail erreichen (bevorzugt)

>>> anzio@online.ms  ( or the link here  )
or per Tel.: > +39 37 37 5 20 30 7
[ in English - oder Deutsch ]

---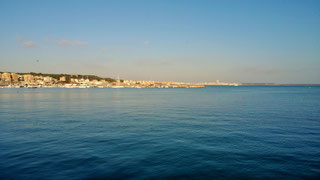 Anzio's habour is the most important fishing-harbour and delivers all over day by day...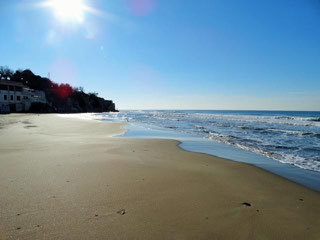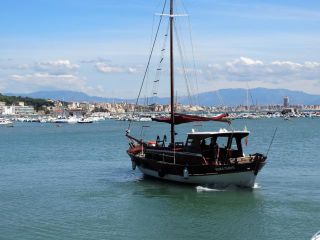 ---
You are looking for a private holidayhome ?
A base for sightseeing, beach-holiday, relaxation and a good time ??   CHECK THIS>>>>>
From the house directly to the wide and clean beach it is a walk ( even in bathers or bikini ) of 2 minutes down the road - you see the sea from the entrance, the rooms or the terrace.
It is - different to other places - a wide sandy beach almost for the local Italians only.
The beaches have only a small amount of vi- sitors from abroad over here...
**********************************************
From the house to..... Rome ??
YES! A walk of 6 minutes up the road, to our station MARECHIARO (<4€) from there a train directly into Roma-Termini - main station.
To Napoli or Pompeji its just a day-visit, as well to see the other side of the Italian boot - even closer to natural reserves, etc,
---
Du suchst nach einem privaten Ferienhaus?  Einer Basis für Ausflüge, Strand-Urlaub, Ent- spannung und eine gute Zeit??  Dann prüfe dies hier >>>
Vom Haus aus direkt an den weiten,sauberen Strand geht man ( in Badebekleidung ) 2 min. die Strasse herunter.
Man sieht das Meer vom Eingang,
den Räumen oder der Terrasse aus  .
Bei uns wird der breite sandige Strand fast nur von lokalen Italienern besucht.
Die Strand-Abschnitte haben nur ein kleine Menge von Besuchern anderer Länder hier.
**********************************************
Vom Haus nach .... Rom ??
Na klar!!  5-6 min die Strasse hinauf zur Zug-Station nach Rom (3,60€) erreicht man Termini (HBf) in weniger als einer Stunde.
Man kann sich - vor Allem mit einem Fahr- zeug - aber auch Ziele wie Neapel, Pompeji als Tages-Ausflug vornehmen - oder sogar die andere Seite des italienischen Stiefels  anschauen.  Näher: Naturschutzgebiete, usw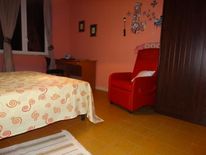 ---
Bed-setup will be depending on your request.
On demand as well the kind of breakfast you prefer in the 'service-room' directly in or at the garden or the terrace.
*****************************
Betten werden nach Wunsch zusammengestellt.  Auf Anfrage gibt es Frühstück - im Service-Raum oder direkt im Garten, auf der Terrasse.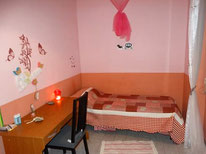 ---
- 'to dream in pink' with a nice direct view to the sea...
Rooms are not from 'anno domini', with used furniture -  almost everything is new...
Simple - but handy...
*****************************
"Ein Traum in pink" - mit einem schönen Meeresblick.
Es ist nichts von 'anno-tobak' mit alten Möbeln ( oft hier ) alles ist neu. Einfach + gut.
---
Stay together in the living room - with open fireplace, Videos, Smart-TV, more...
Enjoy your 'cup of tea' here,
or just re-unite after a day of many different ways.
*****************************
Trefft Euch im Wohnzimmer - im Winter auch am Kamin.
Geniesst ein Getränk oder trefft Euch nach einem Tag mit verschiedenen Zielen.
---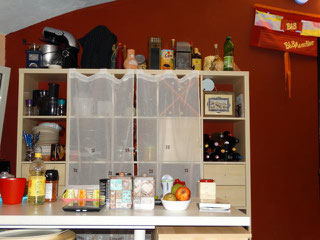 ---
Our 'Service-Room' is ready to use - and we ourselves do regularly. We like the Induction-Fields for fast and handy cooking, several kitchen-machines (like foodprocessors) Fridge/ dishwasher, sink, other kitchen-facilities and a dining area [ all fairly new ] with windows all around towards the garden.
We hope, the garden shows on arrival-time, what we planted - more trees, more bushes, more plants - we enjoyed them last - and look forward to the up-coming summer.... 2017
**********************************************
Unseren 'Service-Raum' benutzen wir immer wieder auch selbst.Die InduktionsFelder zum schnellen, bequemen kochen, die Küchenma-
schinen (+Fritteuse/Waffeleisen) TK-Kombi, Geschirr-Spüler, Spüle mit 2 weiteren Koch-
feldern, Geschirr/Gläser/Besteck.
Alles ist zieml. neu und wird umgeben vom Garten, der bei der Ankunft hoffentlich etwas Farbe zeigt - wir tun viel dafür, jedes Jahr mit mehr Pflanzen/Büschen/Bäumen und auch einem kleinen Gemüsegarten, - aus dem wir auch gerne etwas anbieten.
---
---
Our house is on a 1.000sqm garden-area.
surrounded by different gardens with the mediterranian fruit-trees, bamboo, plants, flowers, palm-trees, a big BBQ-area with a baking-oven, chilling-area - and more....
Above here you can see a "Qumkvat-tree",
the Italians call "Chinese-Mandarin", a small nicely bitter fruit.  There are as well 'Mespole' figs, 'indian-figs/Cactus-figs' pumpins and some more
Additionally there is a tomatoe-garden with changing other plantings.
**********************************************
Unser Haus liegt auf einem 1.000qm Garten- Grundstück, umrundet  von mehreren Gärten
mit mediterranen Obst-Bäumen, Bambus, Pflanzen Blumen, Palmen, einer großen BBQ- Fläche mit einem Backofen - und anderes...
Das Foto oben zeigt auch einen kleinen Qum- kvat-Baum, den die Italiener 'chinesische Mandarine' nennen, eine kleine, angenehm bittere Frucht. Es gibt auch 'Mespole", Feige, Kaktus-Feigen, Kürbisse, Maulbeeren (weiss (und schwarz) und anderes. - Daneben einen Garten mit Tomaten und anderem.
---
*NEWS***NEWS***NEWS*
01-02-2016
I went today for a walk on the old Via Appia antica - impres-
sing - 2.000 years of history..!
Temperature: 22°C - yes, it was enjoyable, great, - nice! ;-)
A small road in the middle of nature, with old stones - in parts the originals - seemed by artifacts and with some im- presseiv remains of the old villas and buildings - for ME(!) a much better touch to the an- cient times than at the collos- seo, which you see from the first day in school over all the years.
Rome offers from the outside at least as much as inside...
         *
Ich ging über die alte "Appia Antica" spazieren - eindrucksvoll - 2.000 Jahre Geschichte..! 22°C - ja, es war genussvoll, großartig, nett.
Eine schmale Straße eingebet- tet in Natur, mit alten Steinen - teils original, gesäumt mit den eindrucksvollen Ruinen alter Villas und Gebäuden.
Für MICH ein viel größerer Ein- druck  und Kontakt zu jener Zeit, als das Kolosseum, wel- ches man quasi vom ersten Schultag an kennt, über alle Jahre.
Rom bietet dort zumindest  ebensoviel wie im Inneren!
Rom has been "polished" for the Holy Year 2016 - Colosseo and Fontana di Trevi, Spanish Steps and more have been re- novated and look bright and clean again.
Rom wurde auf Hochglanz ge- bracht für das vergangenen "Heilige Jahr"
Kolosseum, der Trevi-Brunnen, die Span. Treppe, all das wur- de  renoviert und sieht wieder hell und sauber aus.
_____________________________
Rome is not a common metro-
pole, - nothing you have seen before or you can really seri- ously compare with anything else.
But you have to find out your- self, - YOUR ideal view, YOUR place to enjoy YOUR right mix out of thousands of different angles - perhaps this one?
Our Gardenhouse is available since start of July 2015 - and the guests so far like it's independence and the place a lot.
With own bath en-suite, kitchenette - localized right in the backgarden of our Guesthouse - and our own home:
It can be a cosy place for two - perhaps with a small child.
'Flora' (3) and her parents did like it a lot anyway - but as well 'Arielle' from India and several others afterwards...
*************************************************************
Unser Gartenhaus is seit Anfang July 2015 fertig - und die bisherigen Gäste mögen und geniessen die unabhängige Lage sehr, vor Allem, seitdem es eine neue Überdachung mit Freisitz davor gibt, - alles in Allem ca 40 qm (25+15)
Eine eigenes, ebenerdiges Duschbad, eine kleine Küche, etc
Mit seiner Lage im hinteren Garten unseres Hauses kann es der perfekte Platz für ein Paar und ggf. ein Kleinkind sein.
'Flora' (3) und ihre Eltern mochten es jedenfalls sehr - ebenso wie 'Arielle' aus Indien und einige andere danach...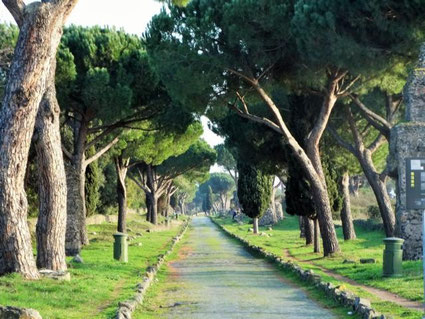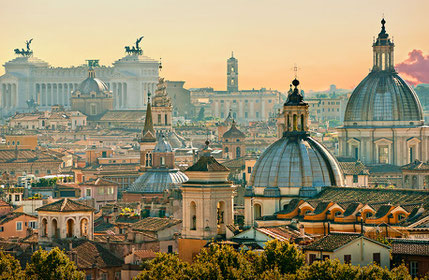 Rom ist keine normale Metropole - nichts, was man schon einmal vorher gesehen hat - oder was man vergleichen kann
Aber das muß man selbst herausfinden - DEINEN idealen Blick, DEINE Plätze - DEINEN Blickwinkel darauf - DIESEN??
---
There is lots to see, - in Rome - but as well and even more all around...
While the Etruskan areas are in the north of Rome, there are much closer places like Ostia,
a wonderful place to get a feeling for the early time of Rome - and part of its success.
-------------------------------------------------------------------------------------------------------------------------------------------------
Es gibt jede Menge zu sehen, - in Rom - aber auch - und vielleicht sogar mehr - rundherum.
Während die etruskischen Gebiete in einiger Entfernung nördlich von Rome liegen, gibt es sehr viel nahere Plätze wie beispielsweise "Ostia", - ein wundervolelr Platz um ein Gefühl für das frühe Rom zu bekommen - und dessen Erfolg.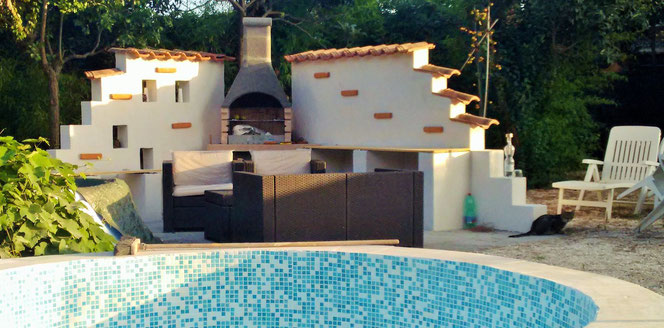 A big BBQ-corner and a small pool offer more joy and comfort, that's what I thought, when I planned it and took this picture - but then I thought, that it could be nice having a shelter, a corner for an oven. - The corner is ready, the Pizza-Oven is installed, the shelter is ready (not visible here) -  and there maybe more to come... - a (hopefully) 'never ending story'

Eine große Grill-Ecke und ein kleiner Pool würden mehr Spaß und Komfort bieten, dachte ich, als ich sie plante und nahm dieses Bild auf.  Dann aber dachte ich, dass es noch schöner wäre, hätte man eine windgeschützte Ecke und einen Pizza-Back-Ofen dazu.  Die Ecke ist nun auch fertig, der Ofen installiert - und es wird sicher noch mehr kommen...
Schon mal....
I T A L I E N I S C H    K O C H E N ??!!
Starting to...
C O O K   I T A L I A N ??!!
Getting here
By far the cheapest and most comfortable travel to us you can usually do: FLY by RYANAIR - you need to book early to get the fares for 10-20 Euro ,  -  but even later it is affordable!
Depending on the season you can ask us für midweek-arrivals/departurs. (not peakseason)
The following list is just a sample for airports connected to Rome-Ciampino.
For 2018 RyanAir is planning more offers, more destinations.
_____________________________________________________________________________________________
Anreise
Bei Weitem die billigste und komfortabelste Anreise zu uns kann man mit RYANAIR machen.
Man muss früh genug buchen um die Tickets für 10-20€ zu bekommen, - aber auch spä- ter kann man es sich erlauben.  Abhängig von der Saison kann man uns auch nach Ankunft/Abreise in der Woche fragen - nicht jedoch in der Hochsaison.
Die Liste zeigt Flughäfen, die nach Rome-Ciampino führen...
Für das Jahr 2018 plant RyanAir weitere Angebote, weitere Flughäfen.
BELGIQUE                 Brüssel Charleroi

DEUTSCHLAND
Berlin
Düsseldorf-Weeze
Frankfurt-Hahn
Karlsruhe/Baden
Köln
Memmingen
Nürnberg
.
FRANCE
Bordeaux
Marseille Provence
Paris Beauvais

NIEDERLANDE        Eindhoven
IRELAND                             Dublin

UNITED KINGDOM
East Midlands
Edinburgh
Glasgow-Prestwick
London Stansted
Manchester
DANMARK
Billund
Kopenhagen

SVERIGE
Göteborg Landvetter
Stockholm Skavsta
---
Ein Gast hinterließ diese Worte,
welche ich vollkommen unterstütze:
"Anzio ist eher ein Geheimtipp - vor Allem Italiener kommen im Sommer - auch entfernt wohnende.
Für Besucher von anderswo ist der Ort ein- fach ein perfekter Mix von Strandurlaub und Ausflug in die Historie. Direkt im Ort gibt es neben der Villa von Nero nicht wirklich Spek- takuläres, aber schöne Ecken und Ansichten, italienisches Leben überall. Den Fischer-Ha- fen kann man tagtäglich neu besuchen und neben den teuren Ufer-Restaurants gibt es auch mehrere preiswerte Restaurants 200m vom Meer entfernt. Wir haben zB in einem "Fisch-All-You-Can-Eat" super-preiswert und lecker gegessen und auch eine Spitzen-Pizze- ria (Ortsteil Marechiaro), die uns auch Salate, Nudelgerichte und anderes mehrfach sehr lecker und sehr preiswert angeboten hat.
Die Kinder waren begeistert vom Strand und Wasser (sauber, lange flach) und wir von den vielen Möglichkeiten rundherum mehr zu se- hen. Super war auch die preiswerte Zugfahrt von der Haustüre bis Mitten nach Rom (für die Kinder kostenlos).
In der Stadt gab es viele Konzerte und auch in der angrenzenden Stadt Nettuno sehr viel Un- terhaltung - dort findet man kurioser Weise auch den größten Irish Pub Europas - ganz neu, absolut original - unglaublich.
Also Anzio empfehlen wir seitdem immer weiter - und gerade suche ich für 2016 - aber eigentlich ist es schon klar - wir gehen wieder nach Marechiaro."
A guest left these words which
I fully support:
"Anzio is more likely a secret hint - most of all Italians come during summertime - even from far away.
For visitors from abroad this place is the per- fect mix of beach-holidays and sightseeing into the history.  Directly in Anzio there is - be- side the villa of Nero - nothing really specta - cular, but nice places and views, Italian life everywhere.
The fishing - harbour can be visited ever so often, daily again and beside the expensive restaurants directly at the bay there are more economical 200m away from the shore.
We had a meal in a "fish-allyou-can-eat" ex- tremly economical and tasty - and even more a top-pizzeria (at Marechiaro) which offered us even-though salads, pasta and more seve- ral times.
The kids were thrilled from the beach and the water ( clean, and smoothly getting deeper ) and we from all the opportunities all around to see more.
Great was the extremely cheap journey by train from the step of the door to Rome (free for kids under 10.)
During summertime there are many concerts in town, as well in the next one (Nettuno) and lots of entertainment - over there you even find the biggest Irish Pub of Europe - unbelievable.
Well, Anzio we advise to since then - and I just search a place for 2016 - but one thing is clear anyway - we'll go back to Marechiaro"
---
Whatever...  we tell or show you here - it's true!!
            We need to be able to look into your eyes on arrival,
             - and do not want to explain what 'could be', 'was planned' - or 'looks better'...
======================================================================
WAS IMMER.... wir erzählen oder zeigen - ist so !!
     Wir müssen in der Lage sein bei der Ankunft in Eure Augen zu schauen,
      - und wir wollen nicht versuchen zu erklären, was 'sein könnte', 'geplant war',
     'besser aussieht'....